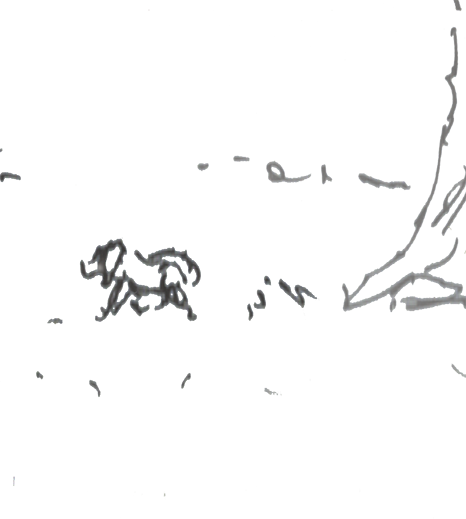 A cold and misty morning in late November
Each morning I go down the garden to where Bert Smells has its spiritual home. Bert only comes down here occasionally, because he remembers there are dry roasted peanuts in packets on the bookshelves; he's not so concerned about me.
This morning its a cold and misty start. I am reminded of the late winter shot I took when walking Bert about a year ago. I use it as my desktop (Yes, its a very wide monitor).

Fictional Bert does the rounds of his farm after breakfast each day, so I wanted to take this idea and show him walking in the early morning landscape. Small dog, big world.
Really quite pleased with the result
The fencing to the left should allow him access to the neighbouring farm's orchard where he meets the orchard pig, Prune.
Bert is quite small here - approximately a centimetre from nose to tail on the page - so it's at the limits of the scanner I've got, but when you zoom out, you can imagine how he trots.
Real Bert, who, when co-operatively folded up, would come in at the upper end of carry-on luggage size, has a limpy right front leg, which I'm hoping to capture in an tiny animation project I've been working on. Thirty drawings for one second of action is not making for speedy project delivery!
Oh, and I've still got to read the Premier Pro tutorials ...